Архив категории »For tiny (MSD and smaller) «
I was inpired by musical "Dance of the Vampires", but, as usual, I made some changes and additions 😀
Female outfit. Designed for Iplehouse FID original body with medium breast. Could fit large breast too, please contact me if you are interested. Scarlet colors. Includes:
* Corset made of single-colored American cotton, decorated by pleated ribbon, embroidered by TOHO and Guttermann beads which imitate drops of blood and roses of silk ribbon. A bit longer at back. Laced by silk ribbon into red and silver eyelets.
* Skirt – 3/4 of circular skirt made of artifical silk. Embroidered by TOHO and Guttermann beads in the same style as corset, and pleated ribbon of two colors – scarlet and wine.
* Underskirt made of scarlet rose net which creates shape of the skirt
Shown by Iplehouse FID Mari, original body, medium breast, glow peach gold skin.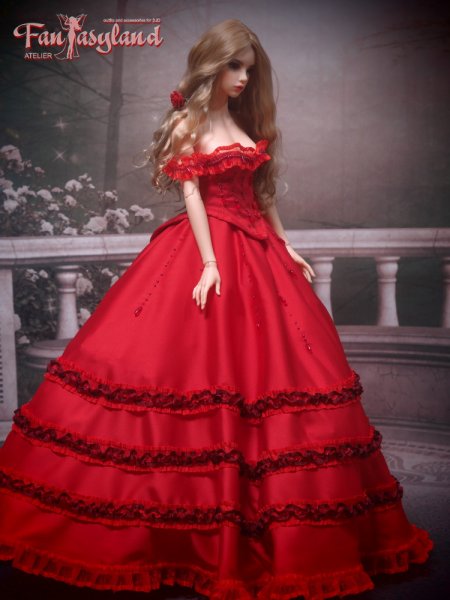 Male outfit. As in the musical he wears black and red colors. It consists of many parts:
* Pants made of black cotton, closing at the back on small button.
* Frilled shirt made of black cotton. Lined. Closing in front on buttons. There are black Guttermann beads on sleeves.
* Vest made of black cotton. Lined. Luxuriously decorated black laces, black and red TOHO beads, closing in front on black Guttermann beads.
* Jacket made of black suede. Lined. Decorated by black laces, black and red TOHO and Guttermann beads, red rhinestones. Belt is imitated by black chain. Designed to wear without shirt, with shirt could be a bit tight. Recommended to detach hands from doll before putting it on and attach after.
* Black-red cloak. It is black outside and red inside. Made of artificial silk. Collar made of cotton to make it harder. Decorated by black metal accessories and rhinestone at neck. Closing on hook.
Shown by Iplehouse FID Lawrence, peach gold skin.