I'm going on practice 1/4 size. I totally like it, it is more convenient, more compact and requires less fabric

I make outfits slower than for familiar SD size, because I haven't got patterns and skills yet, so during mastering I will be a bit measured.
"White and blue" set for Souldoll Kid
I decided to redesign one SD corset for MSD size. It was very pleasing to deal with small details, connect them the most neat and beautiful way. I hope you will be pleased too.
Fits Souldoll Kid. In case of large breast it is a bit tight, and a bit free in case of small one.
The set consists of corset and two-layered circular skirt. Corset is made of two companion cottons of blue color with vintage roses pattern. Embroidered by silk ribbons and TOHO beads. Laced in the back by blue silk ribbon. Skirt is made of thin white cotton, decorated by silk ribbon at bottom and embroidered by silk ribbons.
Please, pay attention that cloak is NOT INCLUDED!
Shown by Souldoll Kid Aehael, normal skin, large breast.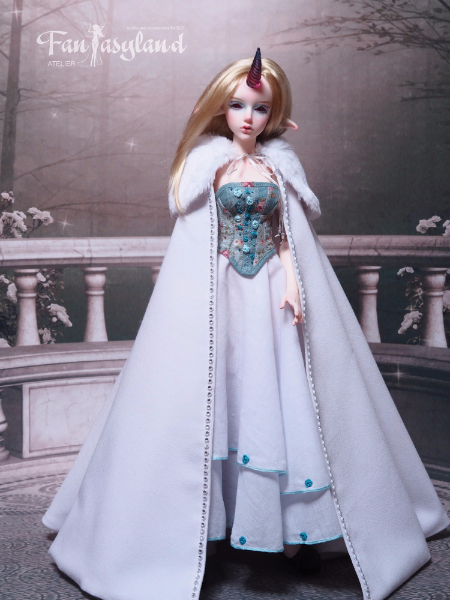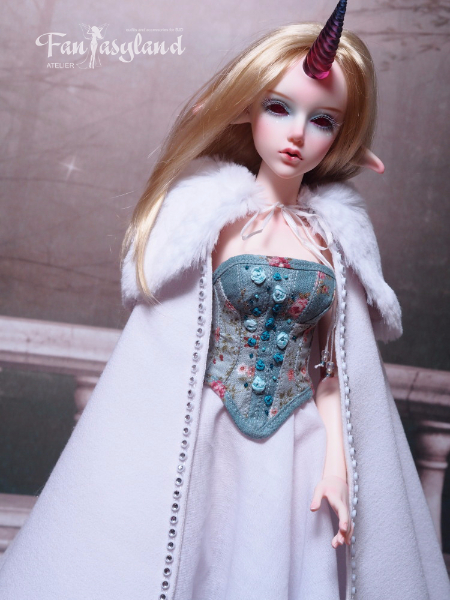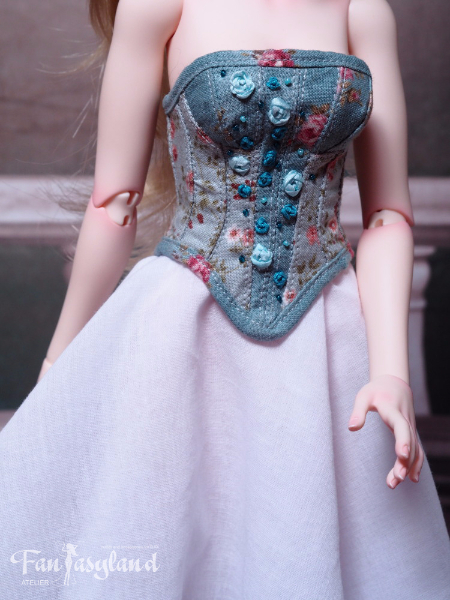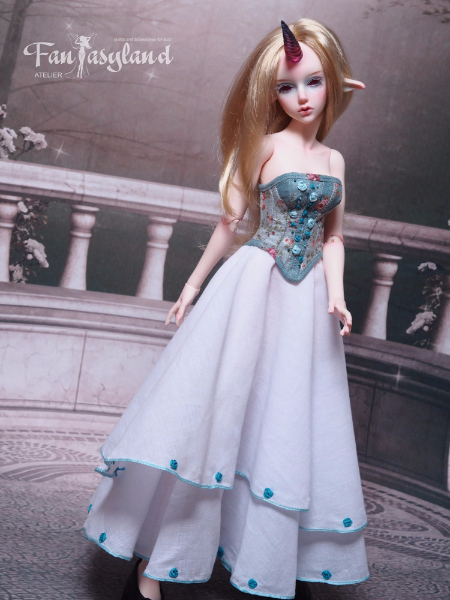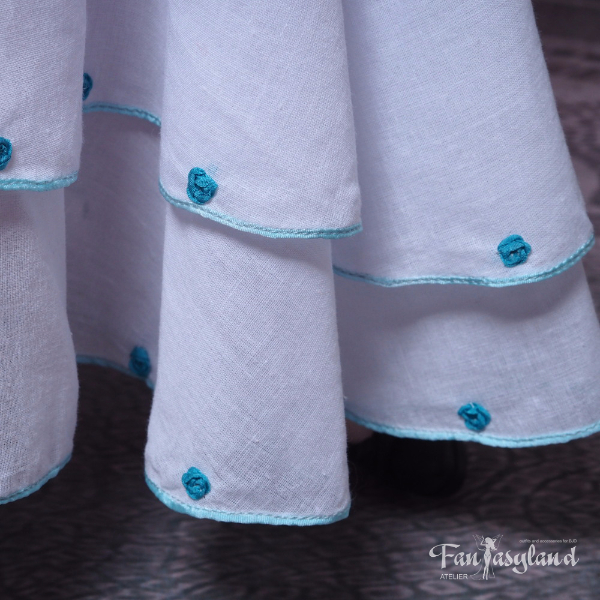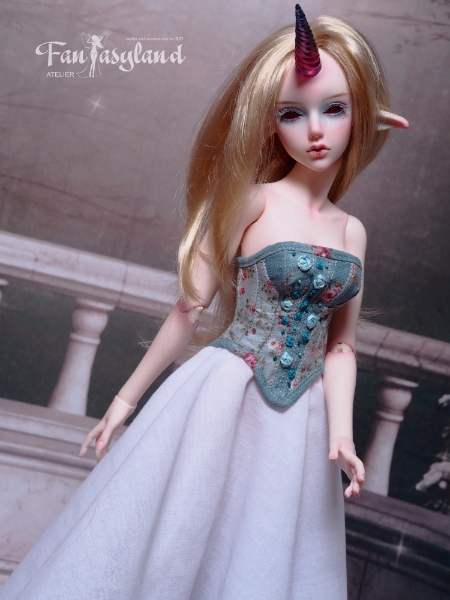 "Majestic winter" set for Iplehouse FID women.
In that outfit I would like to express richness and majesty of fairytale winter, so I chose white and blue colors together with fur which makes it more warm and cozy.
Fits Iplehouse FID women, it is designed for meduim breast. It could fit large size too, but will be a bit tight.
The set consists of dress, corset and two-layered mantle. Dress has unordinary collar to emphasize elegant of the lady. It is shirred at top, under breast and at wristbands by elastic strings. The dress is made of thin white cotton, skirt is decorated by blue semitransparent TOHO beads. The corset is made of blue cotton with pattern like frost flowers, decorated by metal accessories and TOHO beads. Laced in the back by blue silk ribbon. Lower layer of mantle is made of white grainy fabric which looks like a snow, upper layer is made of snow white fur. Lacing in the front by silk ribbon. Both layers have backing of thin white cotton shines a bit silver.
Shown by Iplehouse FID Miho, glow peach gold skin, medium breast.
Комплект для Iplehouse FID девушек "Величественная зима".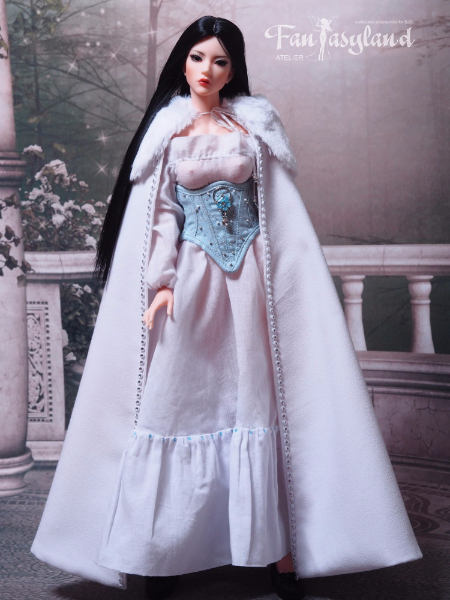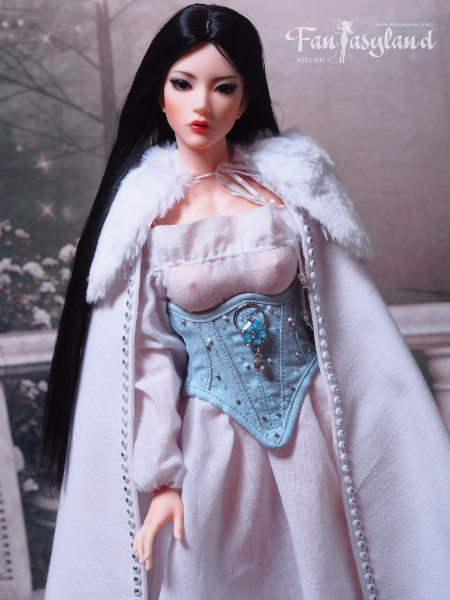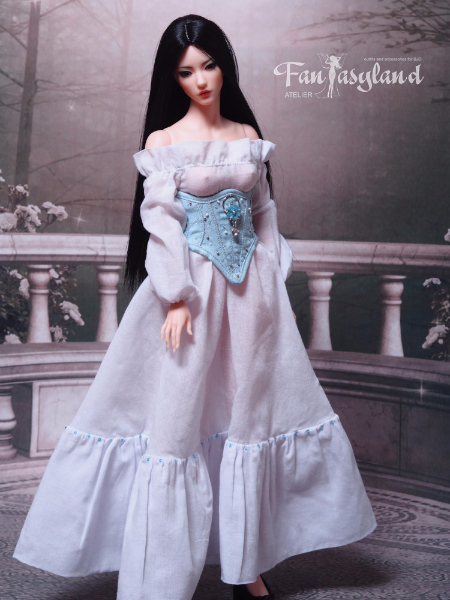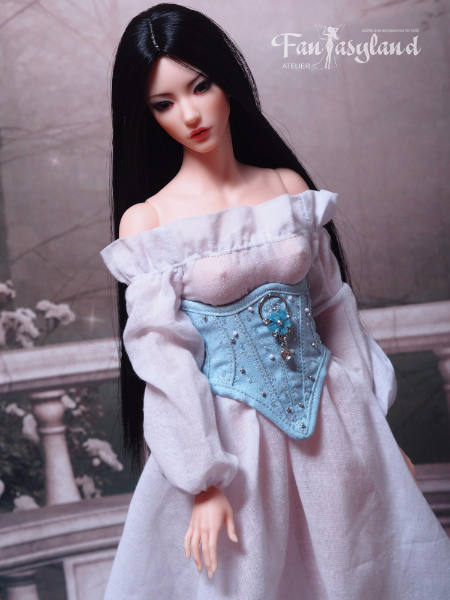 Available in my Etsy store: https://www.etsy.com/ru/shop/AtelierFantasyland